Meeting & Events
THE GLASS HOUSE
LUXURY BANQUET
Glass House is the new luxury banquet hall at Hotel Crystal Palace that offers an exquisite awe-inspiring experience for celebrating your proud and happy moments. We've built this special venue for creating lasting memories!
SKYLIT ROOF
Translucent crystal roof brings in sunlight during the day and transforms into a starry night with specialized ligthing design. Create the right mood to suit any occassion.
OPEN GARDEN CONSERVATORY
Sliding glass walls erase the boundary between the outdoors and indoors, while always pulling in a lot of natural light. Enjoy the beauty of nature and the comforts of all indoor amenities.
HI-QUALITY SERVICE
Food to your taste and thoughtful attention to details for taking the best care of your guests. Sit back, relax and be a proud host!
OPAL ROOM
FINE BANQUET
Opal Room is the new fine banquet hall at Hotel Crystal Palace. A contemporary versatile space for elegant formal gatherings or high energy loft parties. It's the hottest new spot in town for events your friends will rave about!
OPEN AND CONNECTED
A perfect space for small gatherings that opens up into a garden courtyard. Directly adjacent to the large banquet hall, these spaces can be connected for large gatherings. A flexible venue that offers unique possibilities.
MEZZANINE
Split level ideal for performances, DJ perch or kids play space. Get up there and raise a toast to life!
HI-QUALITY SERVICE
Thoughtful attention to all details - food, music, lighthing and service, all customized to your vision. Leave it to us and enjoy your party!
MEETING ROOM
The Coronation Hall has been the preferrred choice of our patrons when it comes to holding smaller meetings and events of up to 40 guests.
CONFERENCES
This square shaped pillarless Hall gives you uninterrupted access to all corners, and is ideal for video conferences, press meets, product launches, etc.
INTIMATE GATHERINGS
With easy access to the Restaurant, Lift and Conveniences, The Coronation Hall is best suitable for those private celebrations!
EFFICIENT SERVICE
We customize everything, from layout, food, and amenities, to lighting, so that your needs are met with minimum fuss!
PARTY SPACE
The Wild Orchid Hall can accomodate up to 80 people, and is ideal for bigger Conferences and gatherings, children's birthday celebrations, Anniversary parties, and intimate events.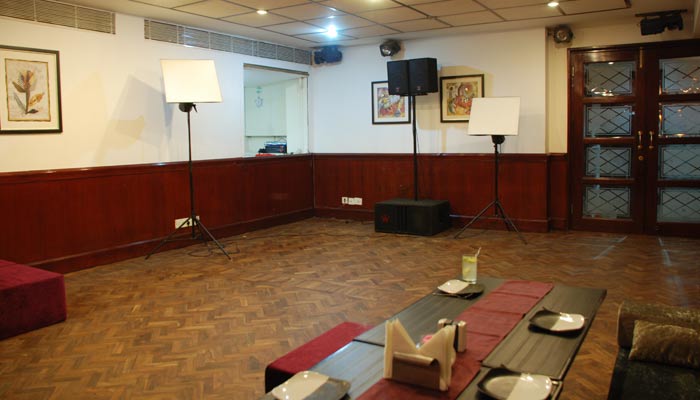 VERSATILE SPACE
The rectangular Hall with wooden flooring can transform from a theater to a round table to a lounge in a matter of minutes, to cater to your requirement of the moment.
D.J. Nights
The in-built D.J. space and Dance floor guarantee that none of your guests go back without shaking a leg, making your party an instant success.
PICK UP YOUR PHONE
At any time, and give us a call, because that is all we need to give you the best service in town, no matter what you demand